They're Back!
We have two New Heights staff members who are back from maternity leave!
Alison Black, our Admissions Coordinator, will be back in the office on Mondays, Tuesdays, and every other Wednesday starting October 17th. She and Justin, along with their daughter Delainey, welcomed Ryder to the family last year. Cassie Smith, who was covering the maternity leave, will continue with New Heights in her Community Liaison role full time.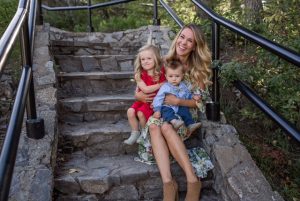 Claudia Ng, our school psychologist, has also returned from maternity leave this year. She and Boaz welcomed Morgan to their family last year. This photo was taken after Claudia's first day back to work…both still smiling! Jaque Webb, who was covering the maternity leave, has gone back to continuing her education. We wish her all the best!