Dr Barry Prizant visits New Heights School
On May 2nd and 3rd, 2017, Dr Barry Prizant, author of Uniquely Human and co-developer of the SCERTS Model, visited New Heights School. Dr Prizant was invited by our Board of Directors to spend time with the team at New Heights, observing in the classes, meeting staff and students, and providing workshops and consultation to a small team of staff.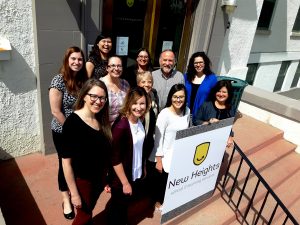 Dr Barry (as our students came to know him) has more than 40 years experience as a clinical scholar, consultant, researcher, and program consultant to children and adults with ASD and related developmental disabilities and their families. The SCERTS model refers to the areas of Social Communication, Emotional Regulation, and Transactional Supports (SCERTS), and at New Heights there is evidence of the SCERTS model used from preschool through high school. It was an honor to have Barry's affirmation of what we are doing. He said New Heights felt like "home". Our students also enjoyed getting to know Dr Barry, especially after learning that his hobby is playing drums!
The purpose of our time with Barry was to inform our staff training and professional development in the coming year. We are excited to see how we can continue our culture and philosophy, and also push the envelope to see where we can further innovate and build to provide opportunities for our students to gain success, contribute to the community around them, and build confidence and self determination.